Ho Ho HO!
Fragapalooza is getting into the festive spirit for 2015.  We are offering a seat sale until January 3rd 2016 for:
Fragapalooza XXII, celebrating 20 years of LAN Event greatness!
Get your friends/family together and purchase these discounted seats for Fragapalooza 2016 today before the sale runs out!
From Fragapalooza 2015 of times past...
With Fragapalooza 2015 just finished over a month ago we would like to thank all our participants and sponsors from this year's event for making it one of the best Fragapaloozas to date! We hope you enjoyed it as much as we did as Staff, and we can't wait for Fragapalooza 2016. Stay tuned to www.fragapalooza.com for all your Fragapalooza event news and hopefully some surprises as the year goes on!
Final salute to our sponsors of Fragapalooza 2015, THANK YOU on behalf of all the Staff and Participants from this years event:AxeMusic.com, BioWare, Breakout Entertainment Edmonton, Capital Airsoft Inc., The Canadian Brewhouse, Cisco, Leduc, Alberta, Extra Life Edmonton, The Hop Food Truck, Kosmos Restaurant & Lounge, Mainland Information Systems Ltd, Metafore, OnX Enterprise Solutions,OverKlocked Gaming & Computers, PapaJohn's Pizza Leduc, Press'd,Shaw, The Variant Edition, Veeam Software, and Westcan ACS!
Sincerely FP Staff
For those of use of an artistic bent, feats of strength, stamina or engineering are not our forte, so we must find a way to shine in our own way.  We will be running an art contest!
We need a new background for our website that encapulates the theme or energy of Fragapalooza.  Our colors are Green (#afdf34) and Orange (#d9760d)
The rules are thusly:
1) Digital images only
2) Keep it civil, clean and fun
3) Recommended 1600x1200 image resolution or larger
4) Our primary website colors are various shades of black (and sometimes very, very dark grey), Green (#afdf34) and Orange (#d9760d)
5) Staff will judge the first round of submissions
6) Finals winner will be selected by the crowd during closing ceremonies
If we have a decent number of submissions, or the winning piece is of a sufficient quality the prize will be a 24" monitor.  Otherwise a suitable substitute will be selected.
We look forward to your beautiful artistry!
PilotCX7 FTW!
Congratz to PilotCX7 (on the right) with your master engineering skills! And also enjoy that HD Prize!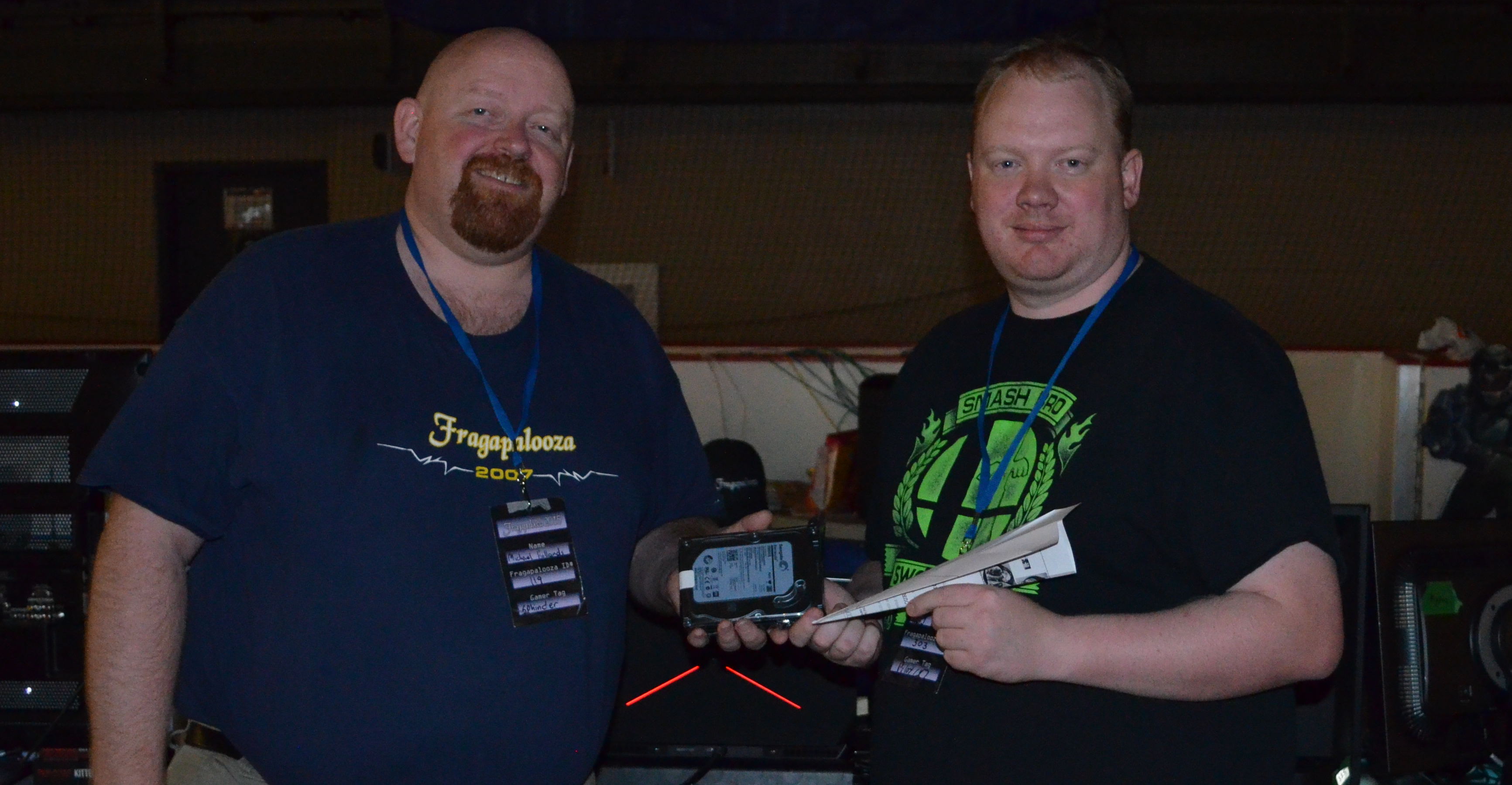 We are going to do a paper airplane contest at  11:30.  This will be an accuracy contest.  So start practicing now.  I got extra paper up here by the tournament guys. 
Basic rules apply, no foreign objects in your plane, this include spit and water!  A crumpled up ball is not an airplane.  Quadcopters don't count(Bram).
Write your ID on your plane!!!!!!!!!!!!!!!!!!!
All good things must come to an end.
For everyone wondering, we will be doing closing ceremonies around 3pm Sunday afternoon.
Dr. EMF FTW!
Congratz to Dr. EMF (on the right) on your superior agility and skill!  Enjoy your nVidia GeForce GTX 960.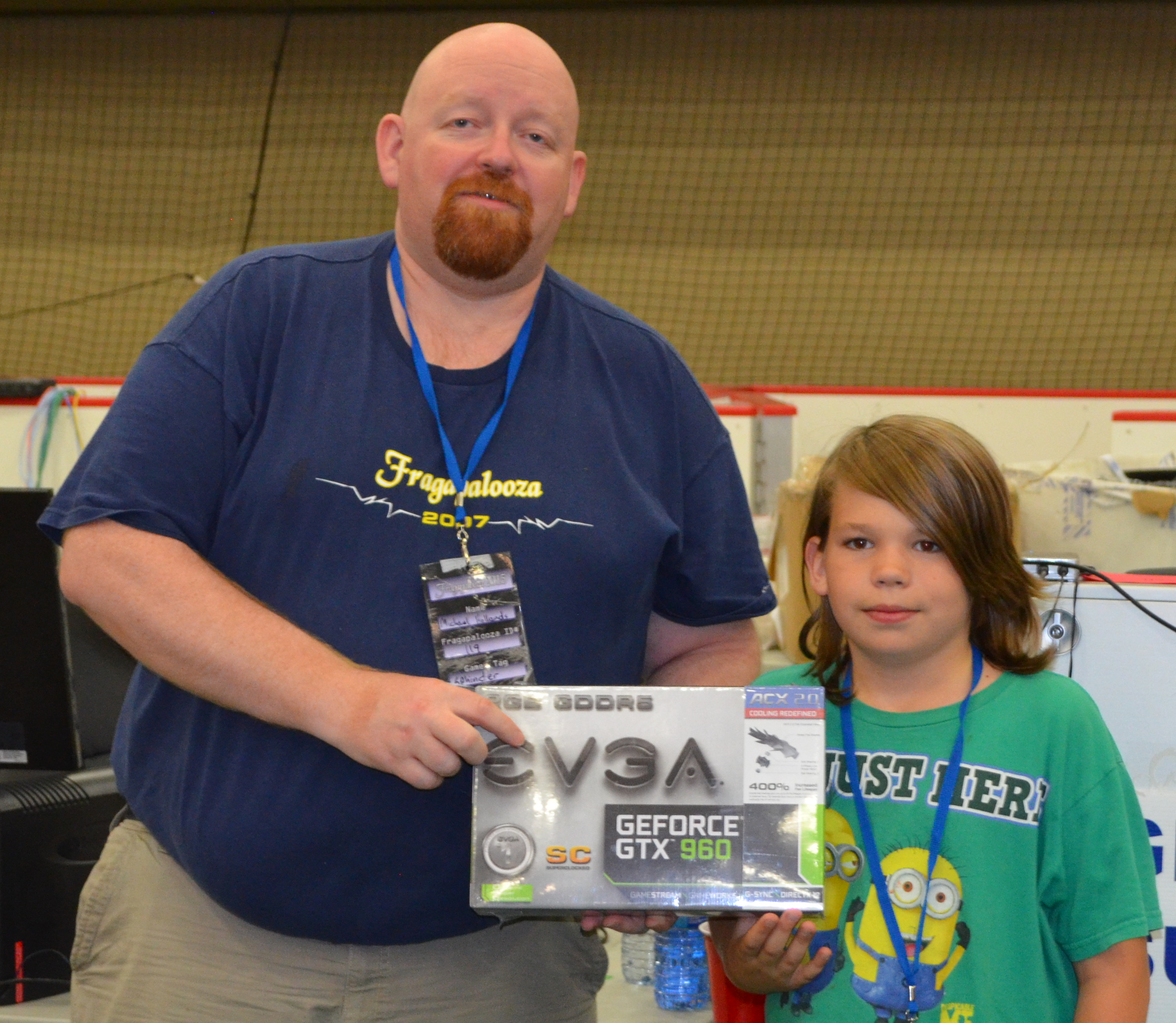 SuperSmash bros will start at 4:30pm,  BF4 will start at 6pm
http://fragapalooza.challonge.com/sc2
Feed the hungry??  Ok!!
We are going to have 2 more food trucks join us again today...They will be here from 5-8pm.
Hot Mess Food Truck will be back again, but I don't have an updated menu yet.  Stay tuned!
We also will have a new-comer...Calle Mexico Food Truck.  Here is what they have on the menu:
TACOS 

All tacos come with cilantro and onions, pork tacos come with pineapple and Asada come with Pico de Gallo

Beef Barbacoa - Slow roasted beef with spices
Pork (Al Pastor) - Roasted pork marinated with chilies and pineapple
Steak (Ssada) - Marinated sirloin topped with Pico De Gallo Salsa
Chicken (Tinga) - Chicken Breast marinated in chipotle sauce

Tortas (Mexican Gourmet Subs)

All Tortas come with Beans, Lettuce, Tomatoes, and Avacado

The Famous Calle Mexico Tostadas

Crispy tortillas topped with beans, lettuce, tomatoes, radish, sour cream, feta cheese and avacado

Drinks

can pop
Mexican Jarritos and Sangria
Water
With 300 participants at the event, please be patient when ordering from our Food Trucks...I guarantee the wait will be worth it!
My Name Is Jeff FTW!
Congratz to My Name Is Jeff (on the left) on your display of physical ability, and enjoy your HD + Steam Game prizes!  Hopefully you don't hurt too much after that contest!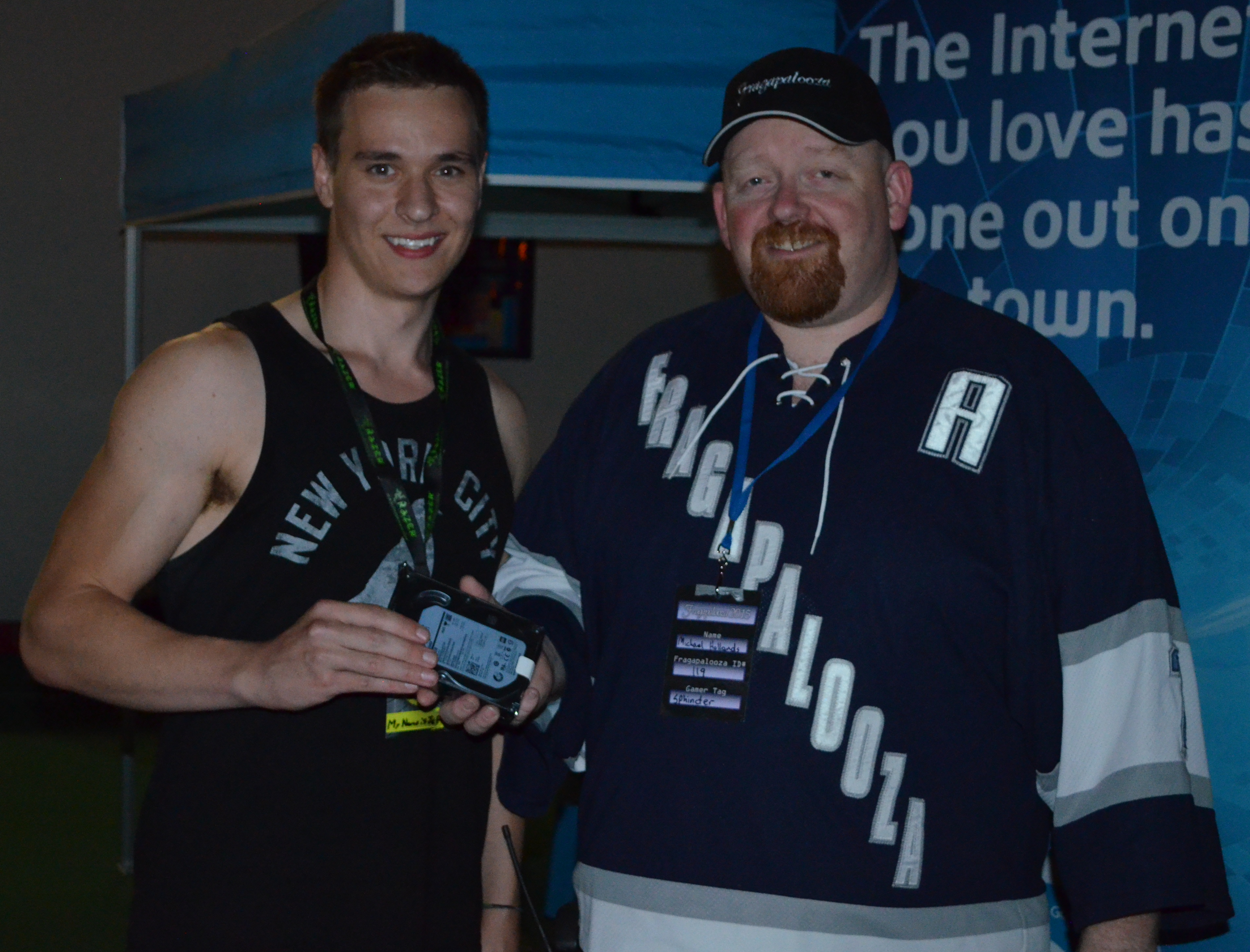 With our Counter-Strike: Global Offensive tournament already running, we will be switching over to our Left4Dead2 tournament at 6:00PM.  Once L4D2 has run its course we will return back to CS:GO for the remainder of the night.
We will be starting Saturday with Starcraft 2 at noon, followed by Battlefield 4 and Smash Brothers that Evening.
Rocket League will be starting today at 4:00 PM.  If you have not signed up as a team of 3, please come up to the Tournament side of the head table to do so!
EDIT: This schedule may fluctuate slightly as we run late and have to make adjustments to the timeline.
Rocket League Brackets can be found here
Left4Dead2 Brackets here
GO HERE!  http://fragapalooza.challonge.com/csgo_2015
Round1 will be played on DE_DUST2
We got
SSS vs Laz08
Super Salty vs DoIT
Yeg Bros vs AiSS
Here is the Map list for the Tournament
Round1 DE_DUST2
Round2 DE_Inferno
Round3 DE_Cache
Loser Round1 DE_mirage
Loser Round2 DE_Cobble
Loser Round3 DE_Dust2
Loser Round4 and 5, and Semi and Final are all Best of 3, and will use the Veto format to do map selection.
What the truck???
Not quite as many trucks as the What The Truck festival, but we are please to announce another food truck will be providing food service tonight.  
Beginning at about 5pm the Hot Mess Food Truck will be providing a special menu to Fragapalooza participants.
Jerk pork tacos with mango pineapple salsa.      $10
Chorizo potato Taco with salsa verde and pico de gallo. (Mushrooms onions cactus).     $10
Bacon cheese dogs.   $6
Moroccan Quinoa salad (GF VEG) $8
Fresh cut fries.     $5
Deep fried dill pickles.     $6
Assorted homemade cookies   $1
Pop drinks bags of chips
With 300 participants at the event, please be patient when ordering from our Food Trucks...I guarantee the wait will be worth it!
Okay so if you want to play in any of the tournaments please come see Bram or Commo at the Head Table (we are on the corner closest to the main entrance).
Tournaments will start tomorrow at afternoon.  CS GO will start at noon,  BF4, SC2 and L4D2 will start after that.  Supersmash will be on Sat Afternoonish. 
Tournaments are
CounterStrike GO 5v5
Supersmash Bros 4v4
Left 4 Dead 2 4v4
Starcraft 2 1v1
Battlefield 4 4v4
If you don't have a team and you want to play come up and sign up as a single and we will find you a team.
FittySix FTW!  XBox One - The Master Chief Collection Edition
Thanks for supporting Fragapalooza 2015 as an Early Bird! By knowing our paid participant base Early supporters help us organize, pre plan and better prepare for the event to come. Keep on supporting us and we'll do our best to make it worth the time!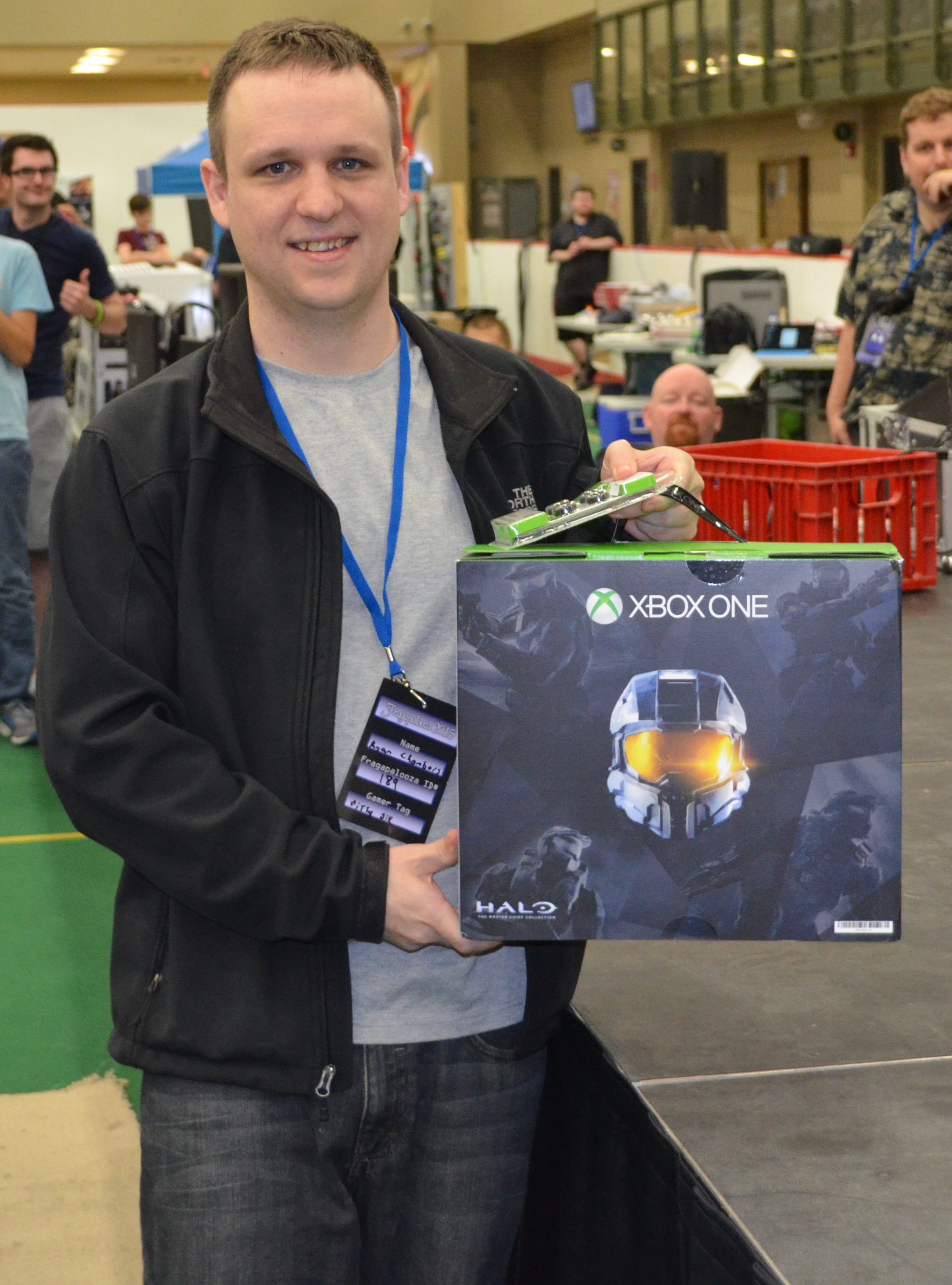 Make sure to be here @ 9:45ish!
Like we do every year we are hosting Opening Ceremonies around 9:45 PM tonight.  Make sure to be here as I think some people might be getting some things... not sure though :P
Your Server, Our Farm is open for business
Come to the head table to see Cova to get it setup on the server farm!
Who doesn't like Pizza!
Papa Johns has joined Fragapalooza 2015 to offer discounts on their orders.  Participants, using the phone number on the coupon in their swag bags, can get a 10% discount on pizza from Papa Johns!  Thanks for sponsoring us this year!
Who doesn't like a Food Truck?
The Hop Food Truck will be stopping by Friday afternoon about 4:30 to feed all you hungry gamers.  They are providing special menu prices for Fragapalooza participants, so please show your Frag ID when placing your order.  They will be staying for a couple of hours, or as long as they are still serving customers, so they should be able to serve everybody!
Here is the menu that they will be offering.
Local Kosmos does it again!
Kosmos is sponsoring Fragapalooza 2015 with some gift cards for prizing, 5% off all non-alcoholic orders (just mention/provide your Fragapalooza 2015 ID Tag), and driver service till mid-night during the event.  Check them out on Facebook!
Here are their menus:
We hope so!
Let us know if it isn't fixed.
We are looking into issues with LoL and other games not staying connected...
Stay tuned!  We are on it!  Check back here for all your Fragapalooza 2015 news!
WiFi to you!
Shaw has provided us two modems for free WiFi use, dedicated to Fragapalooza 2015.  While these modems are NOT on the internal Fragapalooza event network they are available for your use.  There are two located in the building and depending on whether you are closer to the Fragapalooza FP banner in the North, or the Capital Airsoft banner in the South of the soccer pitch, choose the appropriate WiFi SSID to connect to:
Shaw Free - North

Shaw Free - South
Password:    frag2015
We're Live!
Good news everyone!  It looks like Fragapalooza 2015 will start on time!  Doors to open at 9:00am this morning!  See you here!  Remember to have your photo ID and your signed waiver to ensure things go as fast and smooth as possible!