Best 20 Year Fragapalooza Event Evah!
Its been just over a month since the Fragapalooza 20th Year Event ended, and our Staff/Volunteers are just now recovered! And what an event it was; FUN, GAMES, TOURNAMENTS, SPONSOR, PRIZES and some of the best Gamers/People you will ever meet!
Sponsors, we thank you!
We wanted to thank all of our Sponsors, without which Fragapalooza cannot happen (and head over to the Sponsors page to check out their links!):
Axe Music
BioWare
Brew Games
Cisco
City of Leduc
ExtraLife Edmonton
i.d. apparel
Intel
Kosmos
Memory Express
Microsoft
NAIT
nVidia
OnX
OverKlocked
Papa Johns (Leduc)
Scalar
Shaw
Tridon
Veeam
Also be sure to check out all the event photos and videos on our Facebook Site - see if you can find yourself or friends/family and tag them up!
Volunteers, you're the best!
Along with our Sponsors, our Volunteers make Fragapalooza possible.  Without your dedication, determination, hard work and great effort we could not put on any Fragapalooza, let alone the big 20th Year Event.  Hats off to you on behalf of all Staff and Participants!!!
And if anyone is looking to volunteer for next years event, be sure to stay tuned for the call out again in the months leading up to Fragapalooza 2017.
And of course, the Participants - we love you all!!!!!
Its for the gamers that we put on this event, gamers doing it for gamers!  Its your support and registrations that help make this happen and its all for you!  We hope to see you all again next year and thanks again for your continued participation in Fragapalooza!
Gotta tak'em all!
Around 8:30 PM, August 6, which ever faction has the gym at the LRC gets draw(s) for prizes.  1 Prize if Blue or Red, two prizes if Yellow has it.  Those that own the pokemon in the Gym at around that time will be entered into the prize draw!
Kosmos joins us again
Kosmos Restaurant and Lounge is sponsoring Fragapalooza 2016 and we are so happy they are with us again.  Check out their Menu and Pamphlets on the Head Stage for a wide variety of Delicious Entrees.
Can you survive till the end?!
Friday, August 5 @ 12:30 PMish we'll be running a Murder Ball tourney of last man standing for anyone to enter.  Prizing and RvB points on the line.  Listen for an announcement and come out for some target practice!
Menus and Pamphlet 
Kosmos has dropped off their Menus and Pamphlets for us check out for another food option.  You will find both at Registration during the day and always on the front of the Stage.
IRC, FP Group
Looking to find people to game with?  Want to blast for others?  Try our internal IRC server, irc.fp.ca or use our facebook group https://www.facebook.com/groups/2259454385/?ref=bookmarks.
Have money, want stuffs?
This year we have extra Merchandise on sale at the event.  If you missed getting your pre-orders in come up to the head table to check into what we have to sell, CASH ONLY!  Here is what we have for sale (while quantities last):
Hats (20 Years) = $30
Mugs = $20
Mouse Pads = $15

2010
2011
2012
2013
2014
2015
2015 Special Edition
2016
Team Read
Team Blue

Team Shirts = $35

Red: Medium - XXL
Blue: Medium - XXL

Hoodie = $50

Black: Medium - XL, XXL
Grey: Medium - XXL

FP 2016 Shirts = $35

Black: Small - XXL
Grey: Medium, XL
Come get them all before the quantities run out!
Shaw will be running a N64 SmashBros tournament at 2pm Today  it will be 1v1v1v1.  You can sign up at the SHAW booth which you can find by its big blue tent.   Also they will be giving away a free month of internet to the winner!  So, free stuff and games what's not to like?
League will be starting presently!  The brackets can be found here.  If you have questions, please come up!
Build it and we will come
This year we are replacing our annual Photoshop contest with a Minecraft Created Mode contest.  The details are below, and will be judged by FP Staff and Prizing given away at Closing Ceremonies.
Server: minecraft.fp.ca
Basic Textures (Vanilla) for Judging
Claim a plot of unclaimed land - go to town
Creative Mode
PC Only - Classic Minecraft (Not Microsoft Store Version) - this is a limitation of the server software
One Plot per Minecraft Login
Command List
/plot claim (claims plot currently in)
/plot auto (claims the nearest unclaimed plot)
/plot visit [login name] (teleport to plot owned by person - including yours)
So get your creative juices flowing and see what you can come up with!
Forza Time Trial Tournament
Microsoft and Fragapalooza are jointly running a Forza Time Trial Tournament.  They are located on the North part of the Venue, with a Wheel and Forza.  Here are the rules for the tournament:
Track: Mazda Laguna Seca
Car: 2008 Subaru Impreza WRX STI
Suggested Line: Off
Braking: ABS Off
Steering: Simulation
Traction & Stability: Off
Shifting: Manual
Damage Etc: Cosmetic
Rewind: Off
Best two times over the course of the event will get a prize (1st and 2nd place Prizing, sponsored by Microsoft).  There is no limit to the amount of tries you can make, but you must stick to the above conditions.  Good luck!
Sleeping at the Event?
If you plan on staying in the venue to sleep, we have very limited sleeping availability.  You will be able to sleep on the North side of the Venue (by the Co-op High Performance sign), but depending on demand for participant seating we may need to move you.  The other location is on the second floor, behind the stage and tiered stadium seating.  If you are sleeping here, please make sure to push your belongings right against the railing when not there to leave room for people to move closest to the wall.
Otherwise check out these options for accommodations, including camping just outside the venue: https://www.fragapalooza.com/joomla/index.php/news/2016-event-news/117-accommodations
SSID: FP2016
Phrase: fragapalooza
Good Eats, Local Treats
Moo's Sports Louge is the new restaurant located in the LRC second floor.  They have setup special pricing for all Fragapalooza 2016 participants at 10% off the regular menu for anyone with a Fragapalooza 2016 ID Tag, as well as they will have daily specials located at the restaurant for your consuming pleasure.  Check 'em out at the event for all your local needs at this great price!
Microsoft joins us at Fragapalooza!!!
Microsoft is sponsoring Fragapalooza 2016 with some great prizes and tournaments!!!  We are very thrilled to have them at the event this year and we know they are bringing their game with them!  They will be onsite with XBox Ones and games to play as well as Tournaments to sign-up for!  Halo, Killer Instinct, Forza are all on the docket thanks to Microsoft.  See you at the event and check out the Microsoft Store in West Edmonton Mall if you get a chance!
Play Hard, Sleep Well, Play Some More!
Fragapalooza is a 4 day, NON-STOP event, but even the best of us have to crash and burn only to get back up to play some more!  Well there are a few options we have put together to help you out with the crash part, letting you get the best sleep you can with the options below:
Camping - The Leduc Recreation Centre (LRC) has a camping area just North of the main building (in fact its just exactly North of the Fragapalooza Event itself!), just within a small walking distance.  The area is a Gravel section, where Garbage Bins will be provided by the LRC.  While there aren't any hookup facilities, you are welcome to bring your Tents, Trailers, and RVs to stay in the area, and the Fragapalooza venue does offer Team Locker rooms with onsite showers.  NOTE: this area is first come first serve, and may be shared with other events happening in the area at the same time.
Holiday Inn & Suites Edmonton Airport and Conference Centre (1100 4 St, Nisku, AB T9E8E2) - Just a short cab ride to the LRC, this location is offering specific discounts for Fragapalooza 2016 Participants.  Use their online booking system, or call 780.979.0839 to book your suites (Map: https://goo.gl/maps/EtYfqcvRaTA2).  They are offering: $109.49 + Tax per room per night based on 1-4 guests, including full hot breakfast daily in the restaurant.
Days Inn Edmonton Airport (5705 50 St, Leduc, AB T9E 6Z8) - Also a short cab ride to the LRC, this location is offering discounts to all Fragapalooza 2016 Participants.  Use their online booking system (use code LBBG), or call 780.986.6550 to book your suites (Map: https://goo.gl/maps/JHLKDMTWeW32).  They are offering: $109.99 + Tax per room per night.
Best Western Plus Denham Inn & Suites (5207 50th Ave, Leduc, AB T9E 6V3) - Another a short cab ride to the LRC, this location is offering discounts to all Fragapalooza 2016 Participants.  Use their online booking system (use code DISC01), or call 780.986.2241 to book your suites (Map: https://goo.gl/maps/eaxmpzG6UWy).  They are offering: $109.99 + Tax per room per night.
At the Event - The North part of the seating plan shows a small area that can be used to put down single sized sleeping bags/beds, but is limited to first come first serve, and may be subject to removal should the event need more seating for participants.  As you can tell already we are a pretty full venue this year, so while we hope this area will be available for this use, we cannot guarantee that to be so!
NOTE: While you may find lots of areas that look appealing to drop your sleeping gear down to rest with, we unfortunately are limited to the LRC's Soccer Pitch area where the Fragapalooza event itself is held, and won't be able to offer any other areas in the LRC for sleep accommodations.  Please keep this in mind when planning your stay while at the event.
Hope this helps you out in your search for that pillow to rest a gamer's head on, but don't rest too long lest you miss out on all the fun!!!!
Here is the Poster for this year's event.  Download and share as much as possible as we push for the last little bit here before it all begins!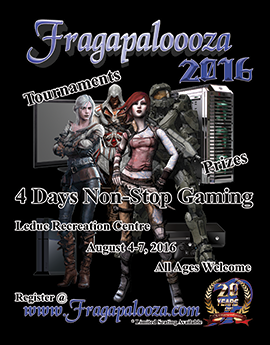 You and a friend are on a deserted island with nothing but your wits and your bare hands, can you survive the island, the hostile islanders and the local fauna?  Did we mention dinosaurs?  Oops, yeah there's dinosaurs there too. 
Survive, Outwit, Outlast.  Be the last team standing and claim your prize!
Extra-Life Edmonton is stepping up this year to run an ARK: Survival of the Fittest tournament at Fragapalooza this year.  They will be running it on Saturday evening for two-man tribes in a grand melee bloodfest.  Signups are now live with tournament format and rules forthcoming.  While you're letting blood for survival, consider contributing towards their fundraising for The Stollery Children's Hospital.  Gamers for Gamers!
For all participants wanting to participate in one of the tournaments, you may be interested in taking a look at the tentative Tournament Schedule.  This schedule is subject to change depending on tournament interest at the time of the event.  Should any changes occur, this document will be updated accordingly and will also be prominently displayed at the event.  As stated in the tournament rules, we will be conforming to this schedule as best as we can and it is expected that all teams signed up for tournaments will be available during their schedule times without delay.
Tridon Communications
Tridon Communications will be providing radio communications to help us run the event.  Check them out for all your communication needs!
Tridon Communications is the leading wireless communication provider for Northern Alberta. We supply Kenwood and Motorola two-way radios, TELUS cellular products, engineering and network solutions, rentals, and much more. Tridon has been supplying wireless equipment and services to to the Oil Sands of Alberta for over 35 years. We are locally owned and operated, and have fully equipped service shops in Fort McMurray, Edmonton, and Athabasca.  
OnX steps up again!
OnX Enterprise Solutions starting working with us in 2015 and is back for Fragapalooza 2016 as a sponsor for our 20 Years in the Making event!  Check them out for various IT Services and Solution needs!
Get the speeds you need!
Shaw has been providing Fraggers with Internet for many many many years at Fragapalooza, and our 20 Years in the Making event is no different.  Shaw will be on hand with a Tent at the event with prizing as well!
In addition to the previously announced tournaments, we will be running a couple side tournaments during this year's Fragapalooza.   For those of you with a creative bent, we will have an official creative mode Minecraft server where you can compete to design the coolest or most interesting construct.  Those with a need for speed will have an opportunity to drop by our Forza racing setup and attack the time trial.
BioWare supports local gaming event...
BioWare, a Division of EA, and Edmonton based company is stepping to the plate again this year!  First back sponsoring Fragapalooza 2015, we are so pleased to announce them back for our 20th Year event as one of our local gaming community sponsors!  Thanks for join us this year for Fragapalooza 2016!